-by Erica

The real question is, who ISN'T making wedding dresses? Lots of mass-market, retail clothing companies seem to be getting in on the act, with simple styles that would be perfect for destination and informal weddings. The good news for you is that most of the dresses are more affordable than anything you'd find in a boutique. In fact, many of these new offerings are so inexpensive (as wedding dresses go) that some brides are using them as "reception dreses"- dresses they change into after the ceremony so they can dance all night at the reception. But how do the dresses look? Let's see.

Macy's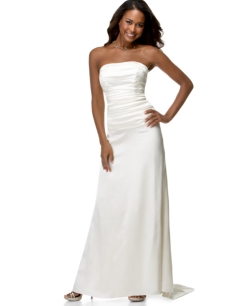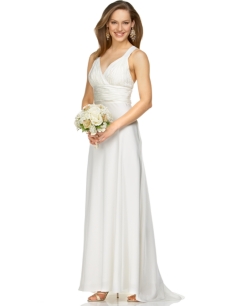 Nicole Miller



Silhouettes


eDressMe




Torrid.com



Alight



Other companies dabbling in wedding gown (and bridesmaid) couture:
Chadwick's Of Boston
Victoria's Secret
Lane Bryant

Isaac Mizrahi for Target (Yep, good ole Tarjay.)

Can Old Navy be far behind???

On the other hand, are you having a formal or semi-formal traditional wedding with all the bells and whistles? We've got you covered, too! Later this week, we'll look at some of the benefits of getting your dress online. And later this month, we'll take a closer look at the concept of "reception dresses".